Colonial Style Spindle Bed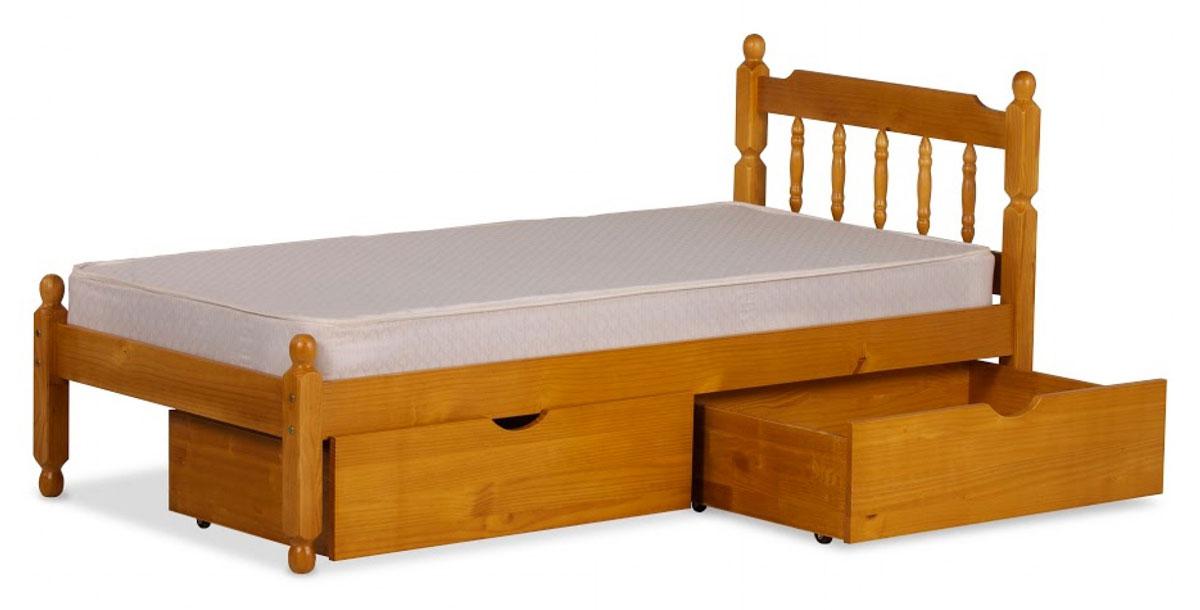 Traditional and very affordable style.

A solid pine bed featuring robust construction with a warm traditional charm and natural finish, in either Honey or natural waxed.

You can relax in comfort with the beautiful Colonial Style Spindle Bed. Offering great value and quality, perfect as a guest bed or as the centre piece of your own bedroom.

The bed is elevated from the floor with strong legs, and the solid slats allow air to circulate around the mattress. It's made from durable pine in a choice of sizes and finishes.

Specifications

Finish type: Natural.
Colours available: Wax, or Honey.
Main Material: Pine Wood.
Bed Sizes available: 2FT6 & 3FT Singles.

Note the 2FT6 is only available in a Honey.

Under bed Drawers are extra.

Dimensions (approx cm):
* 2FT6: 202 L x 84 D x 90 H
* 3FT: 202 L x 100 D x 90 H
* 4FT: 202 L x 129 D x 90 H
* 4FT6: 202 L x 145 D x 90 H
* 5FT: 214 L x 161 D x 90 H

This range of wooden beds are not manufactured by ourselves, but are brought to complement our own range, having searched high and wide, we are sure these durable wooden beds offer the best quality for this price.

Mattresses are not included, though we do offer a small range of mattresses, including sprung, to fit all of the beds we can provide.